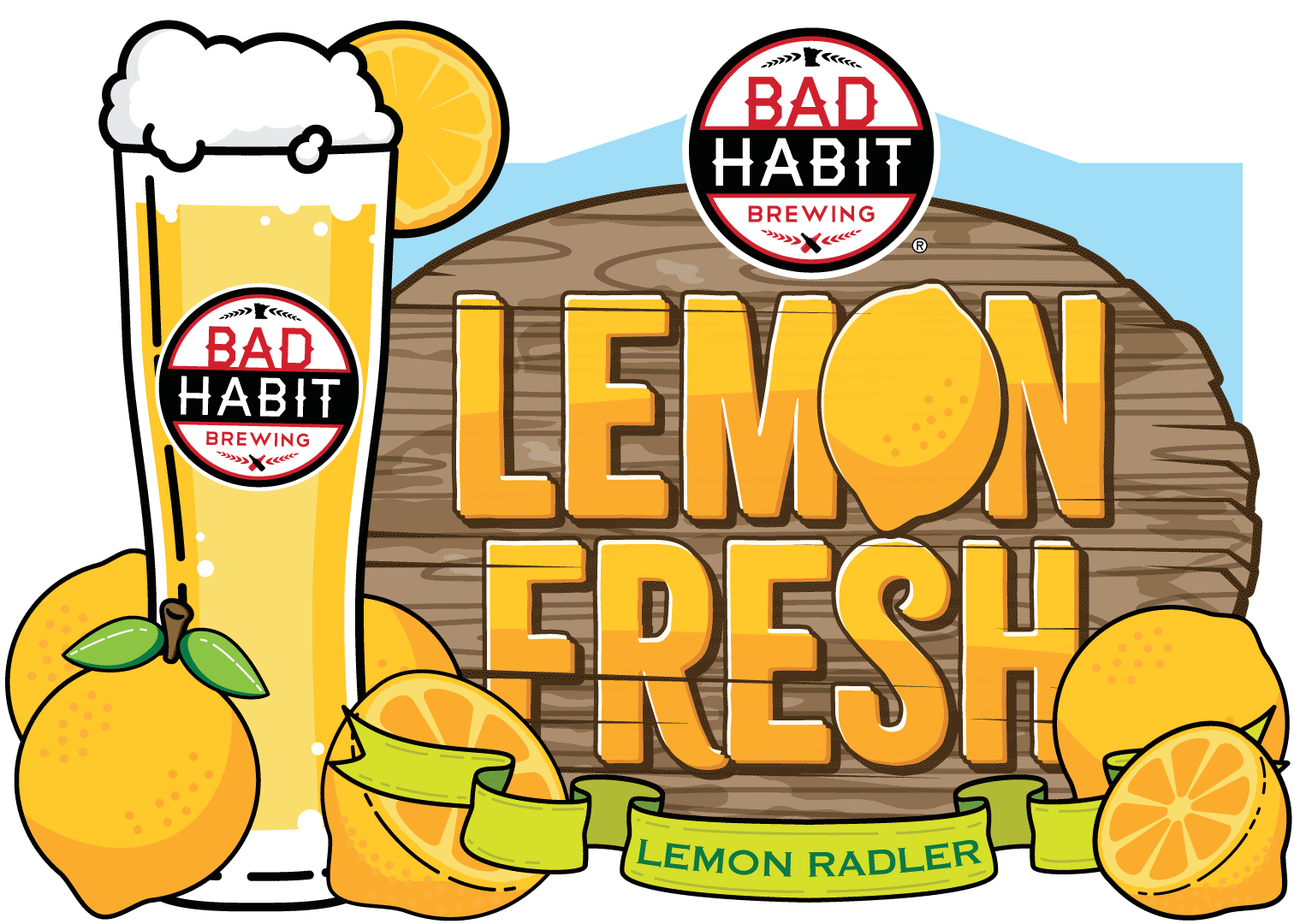 Lemon Radler | 4.8% ABV
What is better than sitting on the patio with a lemonade? How about sitting on the patio with our Lemon Fresh lemon radler. 50% lemonade, 50% ale, and 100% delicious!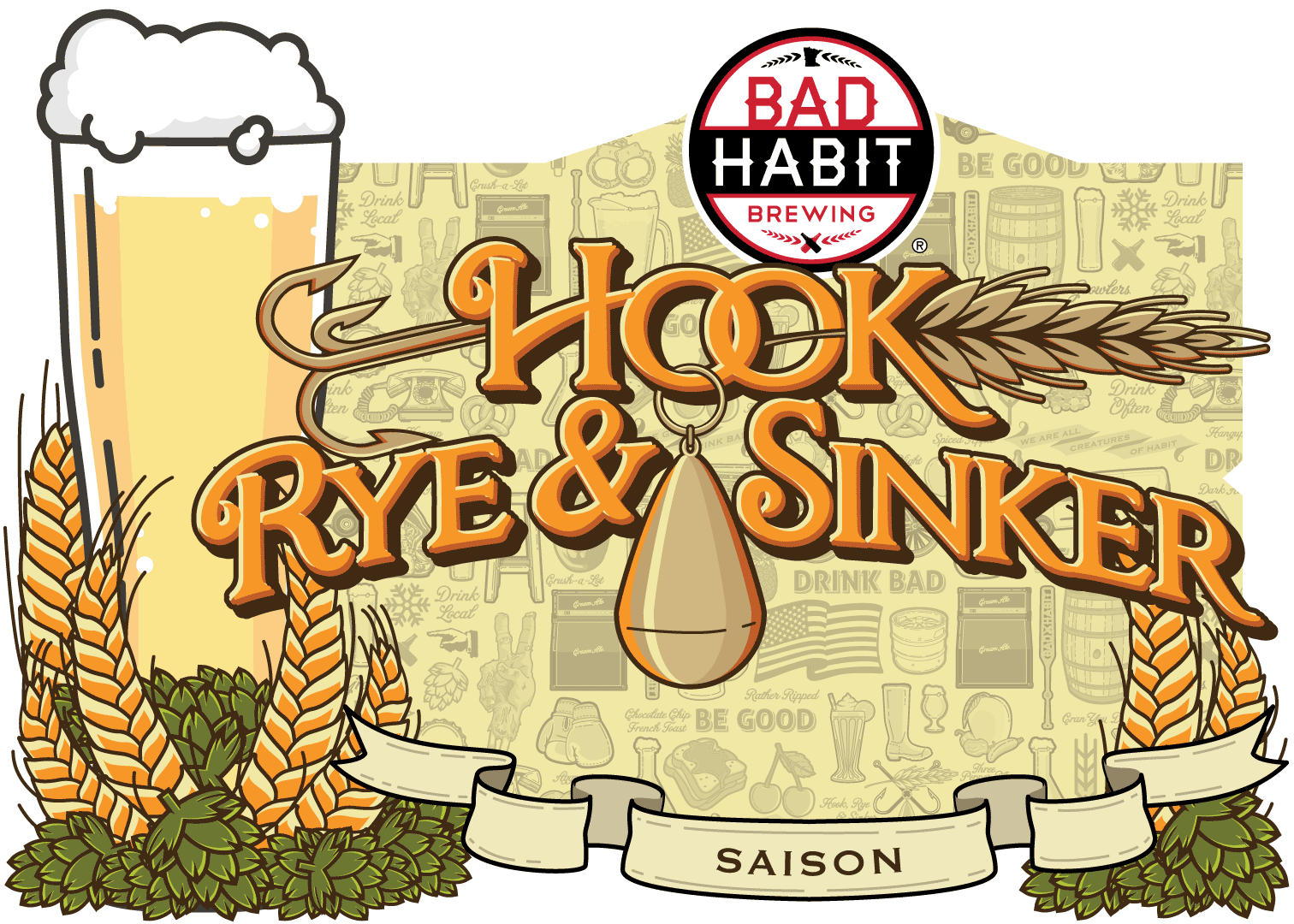 Saison | 5% ABV
We brew this delicious ale for fishing opener. This year we missed it by one week. Just like fishing, sometimes you're on and sometimes you have to shoot for next week.
Blood Orange Milk Shake IPA | 7% ABV
Ever wanted to travel back in time to a 50's diner? Grab a burger/fries and a delicious handmade milkshake while Fonz slaps the jukebox? That all sounds pretty good to us but we know that isn't happening anytime soon. So, we decided the next best thing would be a Blood Orange Milkshake IPA. Brewed with loads of blood oranges, lactose milk sugar and a fantastic combo of hops. Topped off with a touch of Madagascar vanilla to give it a perfect well rounded body, you may just ask us for some whipped cream. Step back in time and give this baby a whirl!
Fruited Kettle Sour | 4.0% ABV
Invention, my dear friends, is 93% perspiration, 6% electricity, 4% evaporation, and 2% Lactobacillus. In this kettle sour, brewed with the freshly picked blazzberries and soured with a special blend of Lactobacillus live cultures, tremendous things are in store for you. Wonderful surprises await you. Your eyes won't believe the bright pink color and your taste buds won't believe the rasberry and blackberry flavors. This tart ale isn't for the faint of heart, if you're willing come with us, you'll be in a world of pure imagination.
Coconut Milk Stout | 5.2% ABV
We brewed this one with 50lbs of sweet coconut and lactose for a truly tropical taste. You'll want to drink one down by the beach mon!
Hazy IPA | 7.0% ABV
Juicy, fruity and aggressively dry hopped. You will absolutely want to CRUSH this hazy IPA. Brewed with Rahr 2 row malt, and loads of malted and flaked oats. Fermented with an English Ale strain of yeast, you will get hints of esters, peaches and citrus. Crafted using 5 different hop strains with a majority in the boil kettle whirlpool and dry hopped. Ther's no reason you won't want to crush-a-lot of this beer!
Imperial Peanut Butter Chocolate Milk Stout | 9.5% ABV
Brewed with our good friend Damien of the Beer People, this is without a doubt our trendiest beer. It has all the crazy trends the youngsters are into these days. It has peanutbutter, it has lactose, it has chocolate, it is an imperial and it is a stout. It is as dark as a brand new tattoo and as smooth as a freshly oiled beard. Get one before everyone else finds out about it.
American Double IPA | 8.5% ABV
People around these parts all say they've had a taste of the Aggressive Double IPA, but the details always seem to get a little fuzzy. It is one of our most elusive beers. It never seems to be on tap very long and when it is, everything is a blur. This American IPA brewed with Citra hops is huge in flavor and ABV. Once you get a taste of this delicious beer, you'll spend your nights and weekends searching for another.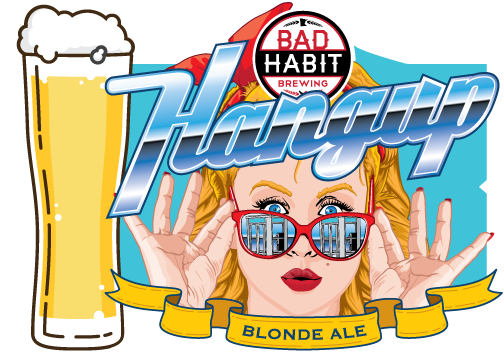 Blonde Ale | 5.2% ABV
One of the most approachable Bad Habit beer styles, our Blonde Ale is an easy to drink beer that is visually appealing and delightfully refreshing. Crisp, light bodied, well rounded and smooth, it is an American classic known for its simplicity. This beer features a gentle flavor balanced with moderate bitterness and malt notes. It is finished with an English yeast strain that leaves the beer nice and clean with a slight sweetness. It might seem like your average domestic but this blonde definetly has more fun.
American IPA | 5.7% ABV
Take an euphoric ride on this dank, resinous, lupulin packed IPA. Under the influence of Eldorado and Mosaic hops, Habitual hits your nose with tropical fruits and pungent piney notes, then smacks your tongue with intense hop flavor. This trip ends with a balanced bitterness and a fluffy white head. If you're up for it, indulge yourself in one of our baddest habits.
Chocolate Milk Stout | 5.2% ABV
Don't miss out on this intensely dark, silky smooth chocolatey goodness known as Dark Addiction. This beer pours dark with a delightful tan frothy head and a creaminess that is added from the lactose milk sugars. We finish this stout with dark roasted cacao nibs from Ghana that give off a predominantly milk chocolate flavor with slight hints of nutty and coconut flavor. Come on and indulge in this creamy, chocolately, roasty dark addiction…you know you want to.
English Pub Ale | 5.1% ABV
Elloh Govnah! Haven't had your passport updated in a while? Let us help transport your taste buds across the big pond. We're not talking tea and crumpets here, our Pub Ale is a soulful English pub ale authentically brewed with English hops, English maris otter malt and finished with an English ale yeast strain. Our Pub Ale is a welcomed departure from your normal palate grind, offering a flavorful hop backbone, malty aroma and an extremely smooth, slightly bitter finish. Wha we ave ere is a proper malty-rich English Pub Ale.
Wit | 5.8% ABV
The Spring Ale represents the beginning of warm weather beer season. It is light bodied and refreshing with a dash of orange peel. Weather you are doing some spring cleaning, planting your garden, or getting your boat out on the water, this beer will get you excited for summer.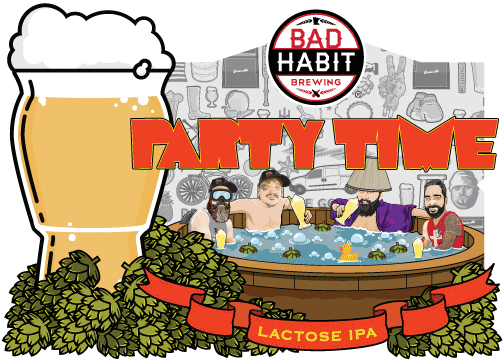 Lactose IPA | 7.1% ABV
We brewed this IPA with New Zealand Hops and lactose for a smoother body. It turned out so smooth, it's the life of the party.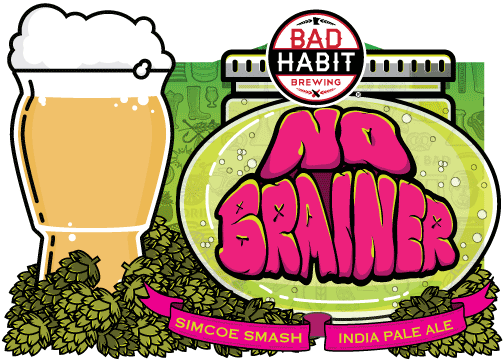 Simcoe S.M.A.S.H. IPA | 7.2% ABV
You can lose your mind trying to figure out what is the best single malt and a single hop combination to use in an IPA. We decided to try Golden Promise malt and Simcoe Hops. This beer has a slight bitterness and big hoppy simcoe flavors of pine, passion fruit, and citrus. It's all you need in an IPA. How can something this simple taste so good? It might just blow your mind.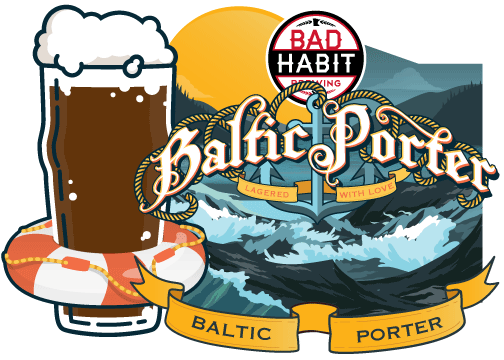 Baltic Porter | 8% ABV
This beer was born in the heart of the cold winter. Cold fermented, and then cold lagered until it was ready for spring. It has a robust flavor of roasted malts and is perfect for sipping on these cooler spring days. At 8% it will keep you nice and warm.
I DID IT ALL
FOR THE WOOKIE
A Vanilla & Coffee Infused Porter | 8% ABV
This beer is a big, dark, powerful beast. We started with our Baltic Porter and infused it with Vanilla and Cold Press Coffee. It's 8% abv and Wookies have been known to pull peoples arms out of their sockets.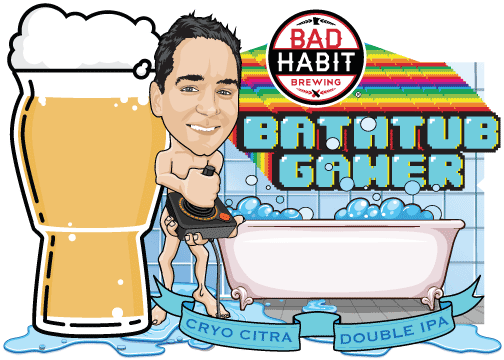 Cryo Citra Double IPA | 8.1% ABV
We weren't playing games when we brewed this boss. This all citra double IPA takes beer to the next level. We used cryo hops to gain that gigantic hop character while reducing unpleasant IPA flavors. Forget the princess, save yourself a spot in the taproom for a glass.
ON TAP MARCH 23rd AT 1:00PM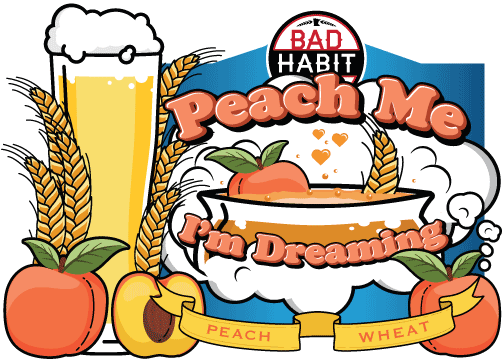 Peach American Wheat | 6% ABV
This beer is the love child of peach and wheat. It has all the bready malty characteristics of a good wheat beer, infused with all the delicious, sweet fruitiness of a pinch of peach puree. Light, fruity and refreshing, this beer drinks like a dream.
West Coast Dank Pale Ale | 5% ABV
There She flows! This whale of a pale ale is brewed with 4 varieties of hops. It is then dry hopped with those same kinds of hops giving this beer a monster dankness you'll want to pour down your blow hole.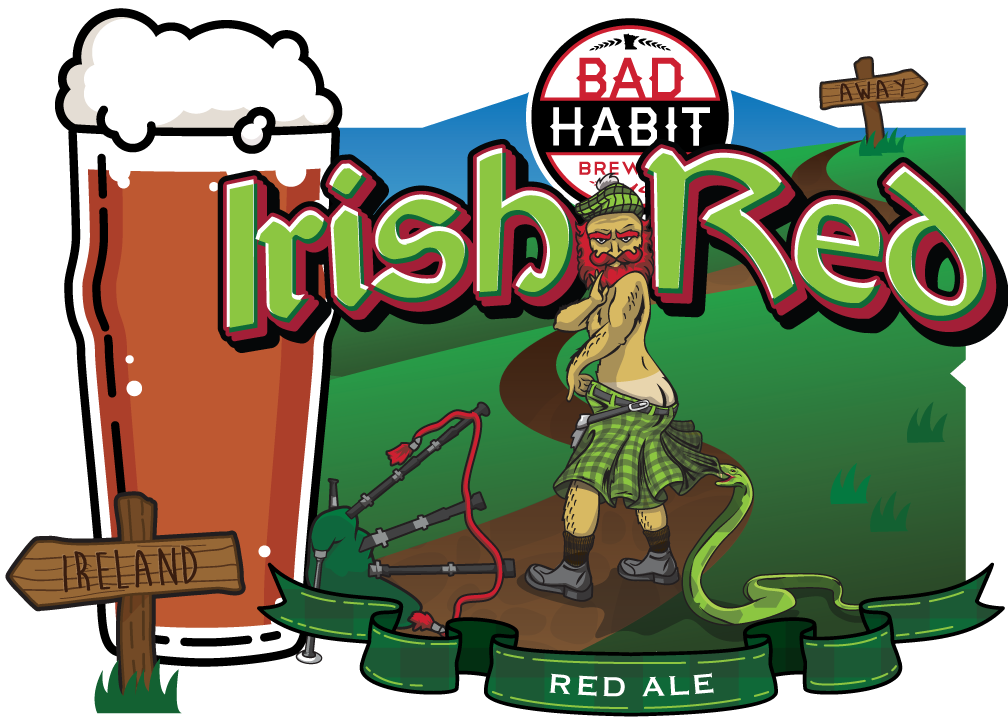 Red Ale | 5.1% ABV
Top O' the morning to ya! This traditional Irish Red Ale is a pot of gold at the end of the craft beer rainbow. It is a well balanced, clean, malty and low on bitterness. When we have this on tap, consider it your lucky day!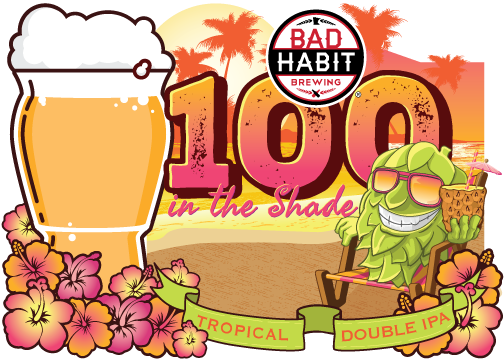 Tropical Double IPA | 8% ABV
We could all use a tropical get away after the polar vortex. This Tropical/Juicy Double IPA was brewed to draw out as much juice-like character as possible, utilizing the interactions of hops and expressive yeast. Leading with Mosaic and Citra hops for a tropical onslaught in the nose and palate, bitterness is restrained with a heavenly mouthfeel. No matter the weather, this beer makes you believe you're on a beach chair and it's 100 in the shade.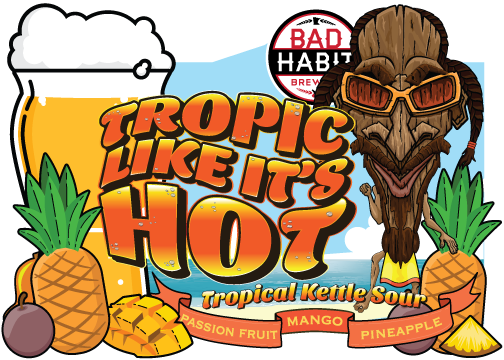 Tropical Kettle Sour | 4% ABV
This kettle sour was infused with passion fruit, mango and pineapple. Get to the taproom and park it like it's hot. It's tropical, it's delicious, it's tart. Get to the taproom and park it like it's hot. Order one up and drink it like it's hot.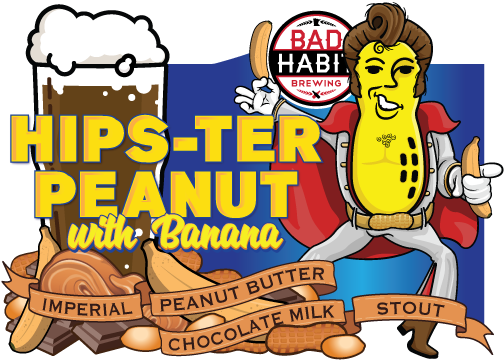 HIPS-TER PEANUT
WITH BANANA
Imperial Banana Peanut Butter Chocolate Milk Stout | 9.5% ABV
This hip shaking beer was brewed, with our good buddy Damien of the Beer People, to be the trendiest beer this side of Graceland. This imperial has everything the king would put into a sandwich. We take chocolate, peanut butter, and lactose and it gets all shook up with bananas for a beer you can't help falling in love with. At 9.5% this beer offers a little less conversation and a lot more action. So order one up, and you'll be saying, "thank you, thank you very much," when it hits your lips.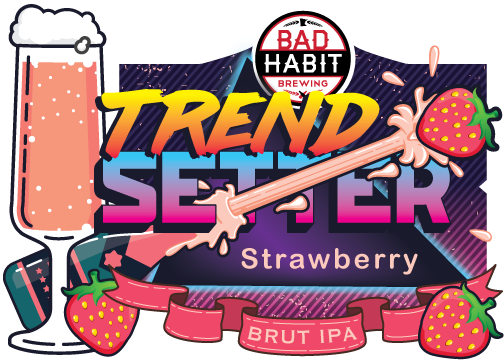 Strawberry Brut IPA | 7.7% ABV
If you are always looking for something new, this is the trendiest beer around. The brut yeast makes it dry as Bob Saget's humor while the strawberry gives it the slight fruitiness of a Boys to Men song. It smells like Nirvana and the ABV measures in at 7.7%. This beer will knock your zubaz off. So strap up your veriflex, press play on your diskman, and page your friends to meet you for a pint.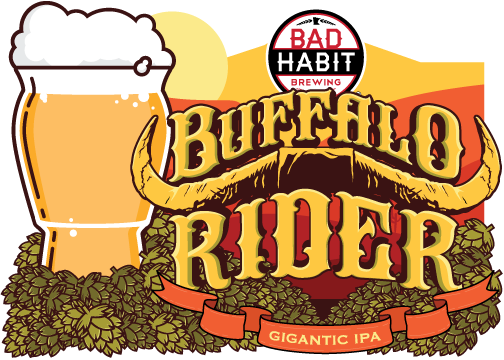 Gigantic IPA | 7.8% ABV
This beast of an IPA is loaded with Citra, Mosaic hops along with Motueka and Wai-iti hops from New Zealand. It is hazy with low bitterness, which really helps kick up those fruity hop flavors. It drinks like a session but watch out, this crazy animal is 7.8% abv. It won't just sneak up on you, it will knock you down and trample you. But if you think you've got it in you, grab this beer by the horns and take it for a ride.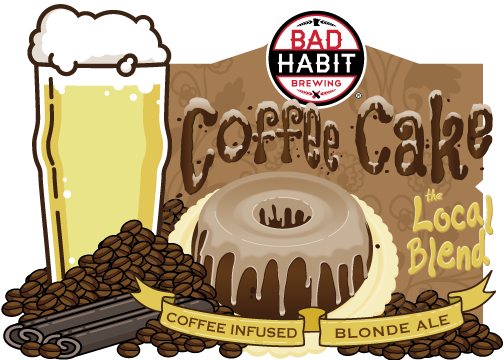 Cold Press Coffee Infused Blonde Ale with Cinnamon | 5.2% ABV
After years of walking down the block to our favorite coffee shop "The Local Blend". We decided to team up and infuse some of their delicious cold press coffee into our delicious blonde ale. We sprinkled in some cinnamon to give it that sweet coffee cake flavor.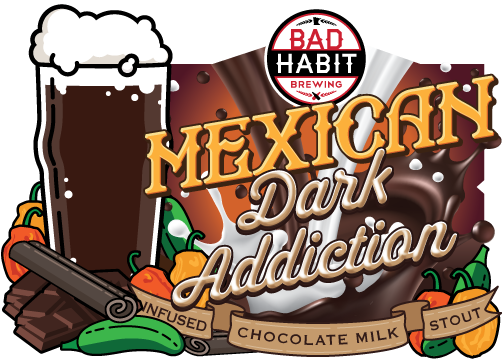 Peppers and Cinnamon Infused Chocolate Milk Stout | 5.2% ABV
We infused our intensely dark, silky smooth chocolatey goodness known as Dark Addiction with cinnamon and peppers. For a sweet subtle heat from jalapenos, habaneros and smoked chipotles followed by a hint of cinnamon and chocolatey goodness.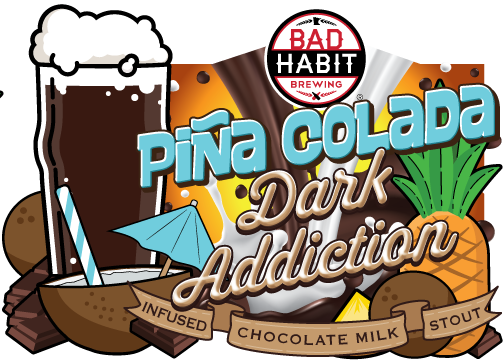 PIÑA COLADA
DARK ADDICTION
Coconut and Pineapple Infused Chocolate Milk Stout | 5.2% ABV
We infused our intensely dark, silky smooth chocolatey goodness known as Dark Addiction with pineapple and sweet coconut shavings, this beer is sure to take you away to a warmer destination.
Cherry Infused Chocolate Milk Stout | 5.2% ABV
We infused our intensely dark, silky smooth chocolatey goodness known as Dark Addiction with cherries from Door County, Wisconsin.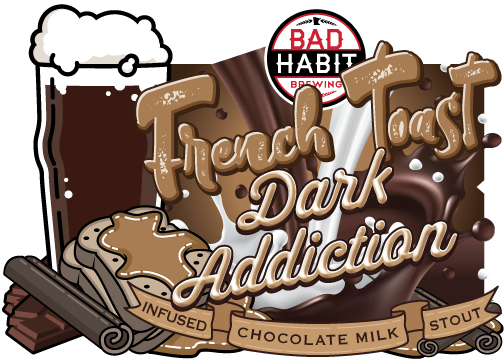 FRENCH TOAST
DARK ADDICTION
Cinnamon and Maple Syrup Infused Chocolate Milk Stout | 5.2% ABV
We infused our intensely dark, silky smooth chocolatey goodness known as Dark Addiction with cinnamon and maple syrup.
Milkshake Triple IPA | 10.7% ABV
Triple milkshake IPA fruited with passion fruit, mango, and pineapple. Smoothed out with lactose milk sugars and vanilla you'd be hard up to find the 10% ABV in this beer.
American IPA | 5.7% ABV
Freshly squeezed hops that scream orange and tangerine pulverize your taste buds, a hearty backbone of locally grown malt and finished with a malty English yeast strain. We ran juicy hops through the smasher, the squeezer and the pincher before we dripped every last ounce of the hop juice directly into your glass. Does it actually contain juice? Maybe, maybe not, we'll let you be the judge!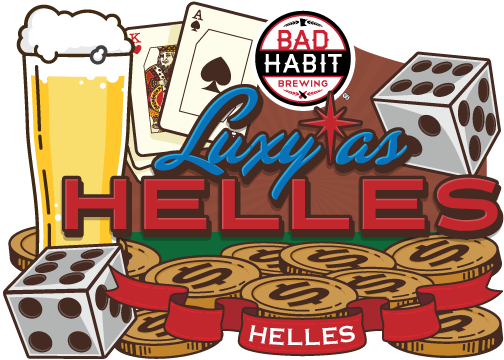 German Style Helles Lager | 6.1% ABV
Winner, winner chicken dinner! We decided to go all in on this German lager with a full house of Pilsner malt, Vienna malt, and locally grown Luxy 13 Hallertauer hops. Then we sat back and waited for the big payout. This medium-bodied golden prize pours heady and was totally worth it. When you're delt a glass of this clean, smooth lager, you'll say "Hit me again, I'm feeling Luxy as Helles!"
Tapping at the St. Cloud Craft Beer Tour 1.19.19
Beer Release Party at Bad Habit 1.20.19
Smoothie Sour IPA | 7% ABV
Our first smoothie sour IPA. From the first sip you take, the tag team of Peach and Apricot will rain down upon your taste buds with a vengeance. The tartness will have your tongue in a submission hold, and just as your mouth is about to give up, the relentless blows are softened with a healthy dose of lactose. This is the match you've been waiting for brother OOOOOOH YEEEEAAAAAH!
WIGGITY WIGGITY WIGGITY WEIZEN
Hefeweizen | 5.5% ABV
"Hefe" means yeast in German, "Weizen" means wheat. So, this is an unfiltered wheat beer with yeast in it. The yeast is the star, creating aromas and big flavors of banana, clove, and bubblegum. Weather you pronounce it Wiggity or Viggity, It's fun to say and fun to drink. This beer is definitely not WACK!
Cider Ale | 6.1% ABV
We take delicious, ripe apples directly from Pine Apple Orchard in White Bear Lake, Minnesota. An orchard committed to growing and providing the highest quality fruit in a sustainable environment. We press them right here in Minnesota. We ferment them with our unique recipe to create this delicious fall favorite. Not too sweet, not too dry, it is the perfect cider ale for all you cider lovers.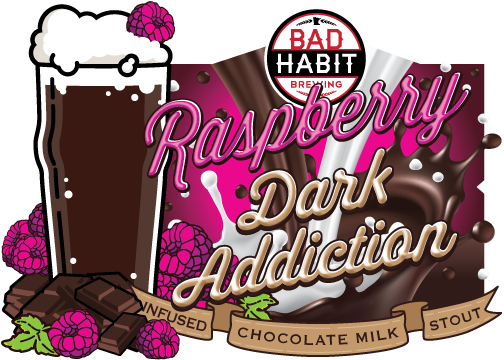 Raspberry Infused Chocolate Milk Stout | 5.2% ABV
We infused our intensely dark, silky smooth chocolatey goodness known as Dark Addiction with loads of delicious raspberries.
TAPPING ON VALENTINES DAY!
Imperial Chocolate Milk Stout | 9.5% ABV
Ahoy, Me Hearties! Shiver me timbers, batton down the hatches, she's a grog which takes no quarter. At 9.5% she's a true clap of thunder, tastier than any bounty, sure to give a flogging to any landlubber. Dark as Davy Jones locker and rich as Captain Black Sam Bellamy, she's brewed with a chest full of lactose and enough chocolate nibs to sink a schooner. A real treasure for any scallywag. Pop a cork and splice the mainbrace, Yo ho ho a pirates life for me!
American IPA | 7% ABV
We took one of our taproom favorites and some "leftover" cooler hops and dry hopped the crap out of this beer! It's the same old favorite malt bill but hopped with an assortment of new hops. Unlike thanksgiving dinner these leftovers won't last long!
Mango Berliner Weisse | 4.0% ABV
Cripes! Stripes! Frut Stripe kettle sour series is a delicious fruit infused Berliner Weisse. Brewed with Pilsner malt and malted White Wheat, it is kettle soured on a house culture strain of Lactobacillus and finished with fruits grown in the garden of the infamous Zebracorn. This batch we used a large amount of Mango. This beer is tart, tasty and beautiful to look at! The flavor over-load-a should last more than 5 seconds but if it doesn't, you can always order another one.
Dank West Coast Double IPA | 9.0% ABV
A wonderful arrangement of delicious hops leads to a dank, piney, juicy IIPA. Forget no longer, come get some!
Raspberry Fruited Wheat Ale | 6% ABV
Raspberry wheat - released for the St Joe Fourth of July celebration!
Bavarian Marzenbier | 5.5% ABV
As Autumn approaches in Central Minnesota we begin to shift from summer to fall ales. Temperatures cool, leaves begin to turn color and the days shorten. Bad Habit Oktoberfest is the perfect beer for this in-between time. A nicely balanced, copper colored Bavarian style Marzenbier that is ideal for any beer drinker. Noble hops and Vienna malt combine to make this seasonal brew slightly sweet, a bit toasty with a nice malty balance. Can, pint, stein or boot, this beer is a perfect combination for fall in Minnesota.
TAPPING SATURDAY, SEPTEMBER 15TH AT OUR OKTOBERFEST CELEBRATION
Pale Ale | 5.0% ABV
Inspired by Tired Hands Brewing in Philadelphia, PA and their Hop Hands Pale Ale, this is an immensely flavorful and hop forward pale ale. It's crisp, clean, and slightly dry.
Imperial Stout | 7% ABV
If I was King, I'd sleep in, wake up for a delicious brunch consisting of French toast, various meats and this imperial milk stout with cinnamon and maple syrup. It is thick, rich and sweet, just like the King. So grab another slice of bacon, because life is good. Long Live the King!
American IPA | 7% ABV
DOUBLE DRY HOPPED IPA….that's all that needs to be said. But we won't stop there. Brewed with 2 Row malt, malted oats and lactose milk sugar this beer will have you begging for a second helping. We did late kettle additions of hops to keep the IBU's as low as possible and fermented it with an English yeast strain. Dry hopped 2 separate times with 3 hop varietals this beer pours thick and juicy like your favorite Saturday morning breakfast beverage. Order, drink, enjoy and plead for a second helpin'.
Imperial Peanut Butter Chocolate Milk Stout | 9.5% ABV
Ahoy, Me Hearties! We loaded the hulls of our imperial chocolate milk stout with the thick gold of peanut butter. She's a boat full of creamy, chocolatey, peanut buttery deliciousness. If the oceans were this stout, we'd dive to the bottom and never come up.